The Yogi's Supreme Power
Shree Gajanan Vijay Granth is the scripture on the life and purpose of the manifestation of Shree Gajanan Maharaj written by HBP Das Ganu Maharaj, a well known disciple of Shree Sai Baba of Shirdi. There are many references in Shree Gajanan Vijay Granth of Maharaj having supreme yogic powers with perfect control over five senses, animals, nature, fire, etc., which He used to help protect His devotees and show the path of self-realization. More details of the Maharaj leela and his yogic powers mentioned in Shree Gajanan Vijay Granth are given below.
Empty Well filled up with water till brim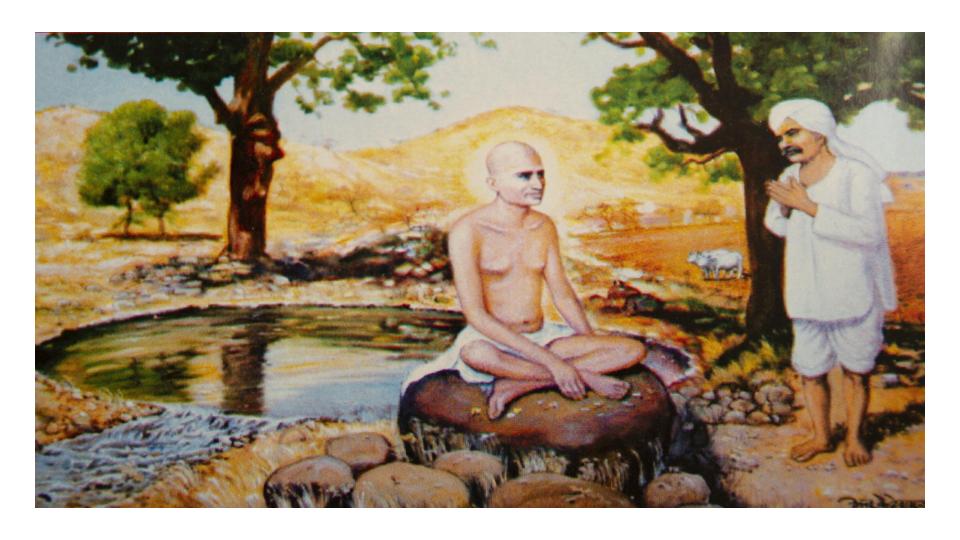 It was the month of Vaishakh, Shree Gajanan Maharaj reached Akoli Village. He was thirsty but could not find drinking water nearby. At the same time, he saw a farmer, Bhaskar Patil working in the farm. Shree Gajanan Maharaj asked Bhaskar to give him some water to drink, however instead of giving water, he abused Maharaj in anger. In search of water, Maharaj went to a nearby well. Seeing this, Bhaskar said, "You mad man, that well is dry for 12 years". Listening to this Maharaj in a dejected mood, prayed to the Almighty "The village of Akoli is thirsty for water, come to their rescue". After such heartfelt imploration of Almighty by Maharaj, the grace of Lord prevailed and a powerful spring burst in the well and a twelve year old dry well was overflowing with water. Looking at this Bhaskar could not believe his eyes, realised his fault, surrendered to Shree Gajanan Maharaj and dedicated his life in his service.
Dry Mango Tree blossoms
Shree Gajanan Maharaj had many disciples and devotees. Among them, Pitambar Shimpi was very dear to him. This was a reason for other devotees being jealous of Pitambar. Once, because of a very minor incident related to Pitambar, there was a rift among devotees and as a result of this, Maharaj asked Pitambar to go away from him. With a heavy heart, Pitambar reached Kondoli village. However no one in Kondoli gave him recognition as a Gajanan Maharaj devotee, instead told him "If you are a true Gajanan Maharaj devotee prove it to us by creating leaves on the dried Mango tree", this was a challenge given to Pitambar. Pitambar tried to make them understand but no one was in a mood to listen. Pitamber made a heartfelt prayer to his Guru, Shree Gajanan Maharaj, chanted his name and then a miracle happened. Delicate green leaves started sprouting from the dry tree and it was all green instantly. They praised Pitambar and Shree Gajanan Maharaj. Pitambar stayed at Kondoli permanently.
Shree Gajanan Maharaj is unaffected by fire
Once some ascetics while giving a discourse in front of Maharaj mentioned "Weapons or Fire cannot destroy the soul". Shree Gajanan Maharaj showed his divine play there. Some sparks of fire from his pipe used for smoking fell on the cot and within moments the cot was in flames. People sitting nearby got scared seeing this, but Maharaj was sitting calmly amidst the flames without getting burnt. He asked the chief of ascetics, Bhrahmagiri to now prove that weapons or fire cannot destroy the soul. Brahmagiri regretted his actions and surrendered before Maharaj. He accepted that he has only superficial bookish knowledge and has no experience. Shree Gajanan Maharaj advised him and forgave him.
Shree Gajanan Maharaj makes well water to rise and give him Holy Bath
Shree Gajanan Maharaj, once reached Akot to meet Shree Narsinghji Maharaj. Shree Gajanan Maharaj was sitting on the parapet of a well near Shree Narsingji Maharaj's math with his legs dangling inside the well. Shree Gajanan Maharaj was continuously staring inside the well, to which Shree Narsingji asked "Gajanana, what are you doing?" Gajanan Maharaj replied "The water in this well has water from all holy rivers, I wish to have a holy bath from the waters of these rivers and they should come out and give me a holy bath. Hearing him say so, some critics were astonished and started laughing. At that point a miracle happened, the well water came up gushing like a fountain and poured on Shree Gajanan Maharaj and others. Looking at this not only the believers but also the critics enjoyed the bath from the waters of the holy rivers.
Shree Gajanan Maharaj heals devotees from difficult situations
There are many experiences of devotees where Shree Maharaj heals people from deadly diseases and difficult situations using his yogic powers for the betterment of the people. Some of them are given below.
Janrao Deshmukh gets a new life
A person named Janrao Deshmukh from Shegaon was unwell for many days. All the doctors had given up on Janrao's ailments. Medicines and other remedies had no effect. Janrao's health was getting worse by the day and he was staring at death. At that point, one relative of his got water touched by the lotus feet of Maharaj and gave the same to Janrao. In a few days, a great miracle happened, and Janrao regained normal health. He got a new lease of life because of the "Pada Tirtha" of Shree Gajanan Maharaj.
Bhau Kavar's pain eliminated
Bhau Kavar had a boil on his body. Many medicines and even a surgery did not help and the boil kept on worsening. The nasty boil was causing unbearable pain. Bhau became restless and he prayed to Shree Gajanan Maharaj to come to his rescue. One night Shree Gajanan Maharaj in the garb of a bullock cart driver reached Bhau's house. Bhau's brother opened the door for Him and He told Bhau's brother that 'Tirtha' and 'Angara' had been sent from Shegaon for his brother and left. Bhau's brother searched for the bullock cart driver again but could not find him. Once the Angaara was applied to the boil, the boil burst and in sometime the wound was healed. In a few days Bhau was permanently cured. Later when he went to Shegaon, Maharaj indicated that he was the bullock cart driver. Bhau was very happy to hear that and took blessings from Maharaj's holy feet again and again.
Danger to Pundalik Bhokre's life averted
Pundalik Bhokre of Mundgaon used to go to Shegaon regularly on foot along with his father for darshan of Shree Gajanan Maharaj. Once there was a plague epidemic in the village and Pundalik was a victim of this epidemic. While leaving from the house for his ritual of walking to Shegaon he was feeling feverish but still without telling anyone, he left along with his father. Halfway, the fever increased and he got a tumour in his armpit. Pundalik's father got scared but Pundalik requested him that "we have to reach Shegaon anyhow, if I die on the half way ahead, take my dead body to Shegaon but not to leave half way". Somehow the father-son reached Shegaon. Looking at this Shree Gajanan Maharaj pressed his own armpit and that moment the tumour in Pundalik's armpit disappeared. After Maharaj ate the prasad brought from Pundalik's house, Pundalik's fever also started receding and in some time he was hale and hearty.
Shree Gajanan Maharaj saves Ganu Javare's life
There was a famine like situation in Shegaon and hence everywhere wells were being dug up by blowing dynamites. When the dynamites were being put in the well, the wick needed for the dynamites was stuck and hence they could not be lighted. The Contractor summoned Ganu to do this risky work, Ganu being poor had no option but to obey the order. When he pulled one obstructed wick, the flame slid immediately and touched the gunpowder and there was a big blast. Ganu prayed to Maharaj, at that time he held on to a rocky cavern. By the grace of Maharaj, Ganu hiding behind the cavern was saved from a danger to his life. Many rocks exploded due to the dynamite blast but Ganu was unhurt. By the blessings of Maharaj, Ganu Javare could come out from the well safely and without any injury.
Bandu Tatya strikes a Fortune
Bandu Tatya always helped people in need, sometimes even by borrowing money, but when he became debt-ridden, his relatives and his own people turned their backs on him. Dejected, Bandu Tatya finally decided to commit suicide by going to the Himalayas. He went to the Railway station to get a ticket, there he saw a Brahman, who asked him to go to Shegaon for the darshan of Shree Gajanan Maharaj. When Bandu Tatya went to Shegaon for Maharaj's darshan, he realised that the person at the railway station was none other than Shree Gajanan Maharaj. Maharaj advised him to conduct his business affairs in the right way and asked him to dig under the Babul tree in his farm. As advised by Maharaj, when Bandu Tatya dug under the Babul (Acasia) tree he found a pot full of gold coins (four hundred in number). With the help of this sudden windfall, Bandu Tatya paid off all his debts and lived happily with his family.
Courtesy Source: Shree Gajanan Maharaj Chitra Katha, Author – Vivek Digambar Vaidya